~ TYPE AND STATS ~
Edit
ATTACK: 200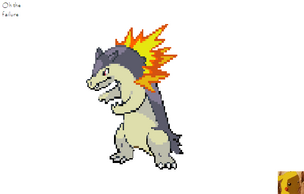 DEFENSE: 300
SP. ATTACK: 500
SP. DEF: 350
SPEED: 200
TYPE: Fire
~ EVOLUTION METHOD ~
Edit
Does not evolve.
~ ABILITIES ~
Edit
Flash Fire - It powers up Fire-type moves if it's hit by one.
Intimidate - Lowers the foe's Attack stat.
HIDDEN ~ Drought - The Pokémon makes it sunny if it appears in battle.
~ POKEDEX ENTRY ~
Edit
Typhlozard, the Fire Pokemon
The flames around this Pokemon's neck produce an eery glow when at night. It is very ferocious and only follows the orders of the strongest trainers.
HEIGHT: 6'00"
WEIGHT: 150 lbs.
COLOR: Black
Ad blocker interference detected!
Wikia is a free-to-use site that makes money from advertising. We have a modified experience for viewers using ad blockers

Wikia is not accessible if you've made further modifications. Remove the custom ad blocker rule(s) and the page will load as expected.