~Type & Stats ~
Edit
HP:
99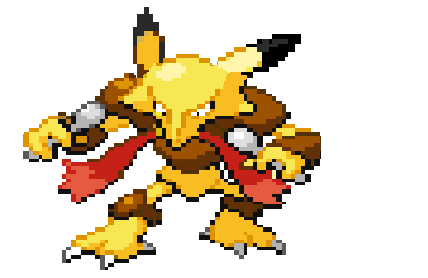 ATTACK: 120
DEFENSE: 131
SP. ATTACK: 100
SP. DEF. : 82
SPEED: 149
TYPE: Dual ~ Electric/Psychic
~ Evolutionary Method ~
Edit
Evolves from Abrichu at LVL 29.
~ Pokedex ~
Edit
Pikalakazam, the Claw Pokemon
Pikalakazam's hind claws are its greatest weapon, the spoons it holds being a last resort. Its claws hold an electric blast, so it can use a powerful Thunderbolt at any time.
~ Abilities ~
Edit
Levitate ~ User makes all Ground-type moves miss
HIDDEN - Hidden Focus ~ Heightens the chance of surviving a one-hit KO move with one HP.
Ad blocker interference detected!
Wikia is a free-to-use site that makes money from advertising. We have a modified experience for viewers using ad blockers

Wikia is not accessible if you've made further modifications. Remove the custom ad blocker rule(s) and the page will load as expected.