~ TYPE AND STATS ~
Edit
ATTACK: 150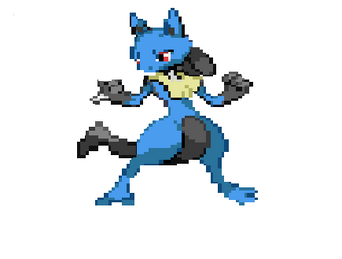 DEFENSE: 150
SP. ATTACK: 150
SP. DEFENSE: 150
SPEED: 200
TYPE: Fighting/Psychic
~ EVOLUTION METHOD ~
Edit
This Pokemon does not evolve.
~ ABILITIES ~
Edit
Steadfast - Raises Speed each time the Pokémon flinches.
HIDDEN ~ Justified - Raises Attack when hit by a Dark-type move.
~ POKEDEX ENTRY ~
Edit
Mewcario, the Swift Pokemon
Mewcario was discovered by a Pokemon researcher who had found its home, a cave deep in the Johto region. After capturing the strange Pokemon, the researcher was attacked by the Pokemon, running away while he was left, weak. Mewcario was not seeked out again, and very little is known about this Pokemon.
COLOR: Blue
HEIGHT: 5'00"
WEIGHT: 100 lbs.
GENDER RATIO: Genderless