~ TYPE AND STATS ~
Edit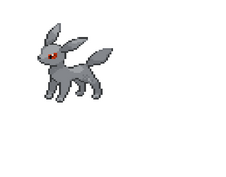 HP: 72
Attack: 90
Defense: 110
Sp. Attack: 60
Sp. Defense: 72
Speed: 64
Type: Steel
~ Evolution Method ~
Edit
Level up an Eevee holding a Metal Coat.
~ ABILITIES ~
Edit
Battle Armor ~ The Pokemon is protected against critical hits
HIDDEN: Heart of Steel ~ Prevents Attack and Defense from being lowered
~ POKEDEX ENTRY~
Edit
Mecheon, the Steel Fox Pokemon
Mecheon uses its hard body to its advantage. It can take many attacks, unless it the attack is Fire or Ground. Then, it mostly retreats.
COLOR: Grey
HEIGHT: 3'00"
WEIGHT: 80 lbs.
~ NAME ORIGINS ~
Edit
Mechanical (working or produced by machines or machinery) and eon (an immeasurably long period of time, possibly referring to how long evolution takes naturally). Eon is a suffix all Eevee evolutions share and was Eevee's English prototype name.