~ Type and Stats ~ 
Edit
ATTACK: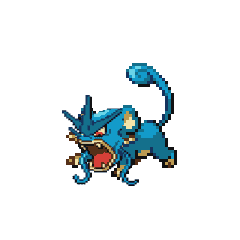 190
DEFENSE: 150
SP. ATTACK: 200
SP. DEF.: 100
SPEED: 200
TYPE: Water
~ Evolution Method ~
Edit
Evolves into Gyaraticate at Lvl. 38.
~ Abilities ~
Edit
Water Absorb - Restores HP if hit by a Water-type move.
~ Pokedex Entry ~
Edit
Gyaratata, the Water Mouse Pokemon
Gyaratata is a rare Pokemon, living in deep undersea caves. It only comes out to feed at night, where it likes to scrounge for berries and roots. It is very good at hiding in the water.
Color:   Blue
Height: 2'05"
Weight: 18 lbs
Gender Ratio: 50% male, 50% female