~ TYPES AND STATS ~
Edit
ATTACK: 233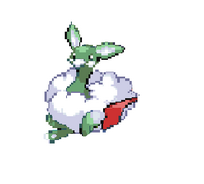 DEFENSE: 100
SP. ATTACK: 180
SP. DEFENSE: 300
SPEED: 100
TYPE: Dragon
~ EVOLUTION METHOD ~
Edit
Does not evolve.
~ ABILITIES ~
Edit
Ice Flyer - The Pokemon does not take damage from Hail and Ice's damage is weakened.
HIDDEN ~ Defiant - Powers up moves under 50% HP
~ POKEDEX ENTRY ~
Edit
Flightalon, the Cloud Pokemon
Despite its strikingly similar appearance to Altaria, Flightalon is a completely different Pokemon. Its tail is always wrapped around its side, as to deflect offensive moves used on it. Not much is known about this rare, strange Dragon-type, because they are mostly secluded in quiet, mostly empty forests, running away when a Trainer approaches it. It is very proud and defiant in battle, only giving in to the strongest.
COLOR:   Green
HEIGHT: 3'00"
WEIGHT: 60 lbs
GENER RATIO: 50% male, 50% female
~ NAME ORIGIN ~
Edit
Literally "Flight" + "Talon".