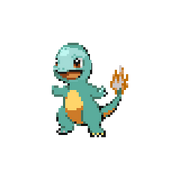 Chartle was created,when a breeder could not decide on his starter pokemon.
Type and Stats
Edit
HP:44
Attack:52
Defense:65
Sp. Attack:60
Sp. Defense:64
Speed: 65
Type: Water/Fire
Abilities
Edit
Blaze:Increases the power of Fire-Type moves by 50%,when the users health is below a third of it's maximum
Rain Dish: recover 1/16th of Maximum health after each turn,while it is raining.
Pokedex Entry
Edit
Chartle,the Mixed type Pokemon
Chartle is a relatively new pokemon,but is already swarming Mountainous areas near Streams. It is a mostly docile pokemon,but when threatened it is known to burn their attackers.