~ TYPE AND STATS ~
Edit
ATTACK: 100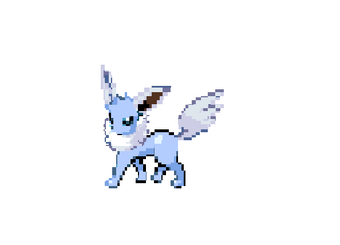 DEFENSE: 150
SP. ATTACK: 100
SP. DEFENSE: 150
SPEED: 200
TYPE: Flying
~ EVOLUTION METHOD ~
Edit
Level up an Eevee holding a Sky Plate.
~ ABILITIES ~
Edit
Serene Grace - Doubles the chance that a move will have additional effects
Tangled Feet - Increases a Pokemon's evasion when confused.
HIDDEN ~ Super Luck - Heightens the critical-hit ratios of moves.
~ POKEDEX ENTRY ~
Edit
Aveon, the Sky Pokemon
Aveon's playful nature makes it an ideal friend for younger children. Although, if it is angered, it will fiercly attack until it proves it is the dominate one.
COLOR: Blue
HEIGHT: 2'00"
WEIGHT: 50 lbs.
GENDER RATIO: 12.5% ♀/ 87.5% ♂
~ NAME ORIGIN ~
Edit
Aveon, pronounced 'A-vee-on,' comes from aviation (meaning to fly an aircraft) and eon (an immeasurably long period of time, possibly referring to how long evolution takes naturally). Eon is a suffix all Eevee evolutions share and was Eevee's English prototype name.